Volumetric Glassware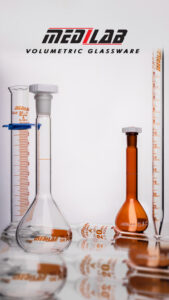 MEDILAB specializes in the manufacturing of Scientific Laboratory Glassware from high-grade borosilicate 3.3 glass in compliance with the International Standards.
Volumetric Glassware by MEDILAB is manufactured and calibrated to precision, as per ISO/ DIN Standards in our In-house Calibration Lab, ensuring precise Class A/ AS accuracy.
Write to us at – [email protected], if you wish to know more or have any inquiries. We'd be glad to assist.
Showing all 33 results